I'm here to ignite an awakening of our most authentic selves, while encouraging the daily activation of purpose through the power of transformative love. Here is my Gift to you (no email signup required)…
Click Here to Download your high-resolution poster.
Print it out and Frame it. Take it with you. Make it Yours!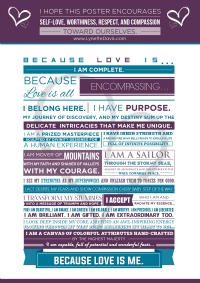 Click Image for JPG format
Because Love Is…
I am Complete.
Because Love is all encompassing…
I Belong Here. I have Purpose.
My journey of discovery, and my destiny sum up the delicate intricacies that make me unique.
I am a prized masterpiece sculpted by divinity designed for a human experience.
I have inner strength and a raging fire in my belly ready to engulf a life full of infinite possibility.
I am mover of mountains with my faith and shaker of valleys with my courage.
I am a sailor through the stormy seas, magnet of abundance and discoverer of the ways towards peace.
I see my strengths as my superpowers and unleash them to forces for good.
I act despite my fears and show compassion every baby step of the way.
I transform my stumbles into a message of triumph and hope.
I accept who I am and radiate my essence…
For I am Beautiful. I am Awake. I am Chosen. I am Valuable. I am Worthy. I am Precious. I am Liberated. I am Brilliant. I am Gifted. I am Extraordinary too.
I look deep inside my core and find an awe-inspiring energy flowing through my very being awakening my heart to see…
I am a canvas of colorful attributes hand-crafted by the highest majesty. I am capable, full of potential and wonderful feats…
Because Love Is Me.
Written with LOVE by Lynette Davis
>>>>>>>>>>>>>>>>>>>>>>>>>>>>>>>>>>>>>>>>>>>>>>>>>>>>>>>>>>>>>
If this made you feel all warm and fuzzy inside, (or something along that nature) then you're going to love the free content shared on my blog + newsletter.
Click here to get Exclusive access to updates and special offers.
<<<<<<<<<<<<<<<<<<<<<<<<<<<<<<<<<<<<<<<<<<<<<<<<<<<<<<<<<<<<<<