In celebration of Black History Month, I'm conducting weekly interviews on local Black Entrepreneurs-the History Makers!  My guests are willing to share some tips and advice for aspiring business owners and community leaders who are willing to step up and make things happen for themselves and those around them.  I would like to introduce to you all my 1st guest…
Meet Roger Lee- Artistic Director and Professional Problem Solver!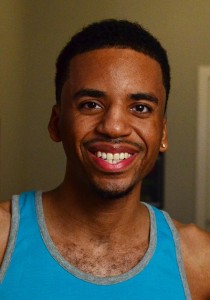 I've made available a downloadable mp3 recording with parts of the interview. Click here to listen!
1) Tell me a little about yourself and what you do?
My name is Roger Lee and I am an arts entrepreneur, administrator, and educator from Philadelphia, PA. I am the Owner and Artistic Director of Roger Lee Dance, LLC, an award-winning business providing dance instruction, entertainment, consulting, and speaking services, concert series, and merchandise. I have been blessed to teach at Broadway Dance Center and The Rock School for Dance Education and write for Dance Magazine and Dance/USA.
I am also the Founder and Executive Director of Philadelphia Arts and Entrepreneurship Festival, a new non-profit organization debuting Spring 2015.
2) What prompted you to start your own business/be your own boss/ build your personal brand?
I decided to start my own businesses and organizations for three main reasons: 1) to continue exploring my creative passions as an adult 2) to uplift people and inspire them to channel their own inner creativity 3) to create networking opportunities for people.
3) What were the first steps you took towards making your dream into reality?
The first step I took was developing my entrepreneurship skills as an undergraduate student at Ursinus College. I spent 3 seasons as President and Artistic Director the student-run dance company, overseeing the board of directors, membership enrollment, fundraising, marketing, and productions. As a senior, I re-vitalized the student-run television station and served as its President and General Manager. These experiences prepared me for my current work as a creative entrepreneur.
4) How do/did you handle obstacles and roadblocks?
I handle obstacles and roadblocks as they pop-up on my entrepreneurship journey. I pray, keep my faith, and my perspective during trying circumstances. I am learning more each day that the right perspective diminishes problems. When I suffered a serious dance injury in college, I thought that it would be the end of my career. Looking back I realize that that injury actually gave me the boost my career needed. It forced me to tap into my journalism skills, miss dance, and come back to the field with full force. That injury turned me in to the dancer that I am today. The moral of the story is that God can use your most challenging obstacles and roadblocks to bring victory into your life. The key is keeping the faith, staying persistent, and working towards your goals no matter what stands in your way.
5) So, I know you've heard of feast or famine when it comes to business…if you've ever experienced this how do you overcome the "famine" and/or how did position your business to get out of this cycle?
The rough economy and competitive dance field really forced me to get creative with my business strategy. I positioned my dance business to be a leader in getting the world dancing. Not just professionals or dance enthusiasts, but the world. My business is proud to work with people of all ages and backgrounds. This unwavering dedication to the public has been the foundation of my business since day one. It has also helped us stay afloat!
6) Where does your inspiration/motivation come from?
My biggest inspirations and motivators are God, my family, and my creative colleagues.
7) How do you define and measure success?
I always say that success is in the eye of the beholder, much like beauty. However, I personally define success as the achievement or surpassing of goals. I measure success both quantitatively and qualitatively, looking at both numbers and happiness.
8) Speaking of success…What is the one action you have taken that has accounted for most of your success?
Reaching out to local media professionals was the step that helped set my business' success into motion.
9) How has your business helped with community growth or development?
My business has helped bring communities together with dance. I will never forget hosting my first open dance workshop for the community where people from all walks of life came together with one common goal; to experience the joy of dance. By the end of the class people were exchanging contact information, building friendships, and planning to attend the next workshop. Another way my business has helped with community growth and development is through our advertising program. I have provided local businesses with more exposure and networking power.
10) Where do you see yourself and your business 10 years from now?
I see myself continuing to enjoy the fruits of my labor. I also see myself continuing to educate and mentor the next generation of entrepreneurs. In 10 years, I see Roger Lee Dance, LLC celebrating its 12th anniversary!
11) What advice would you like to give to other aspiring entrepreneurs?
I live by the words "be the change you want to see in the world." My advice is to think about what things you would change about the world, develop a plan for changing those very things, and then implement your plan. This process will give you clarity, purpose, and vision for your entrepreneurship journey, Also, never give up! No matter what comes your way, do not allow yourself to quit. You are closer to your finish line than you think you are. You are too close to stop now. So push your shoulders back, stick your chest out, and put your chin up proudly. You have what it takes to succeed and be the entrepreneur of your dreams. All you have to do is see it, believe it, and achieve it!
12) What projects are you currently working on that you think could benefit some of my readers?
I am currently producing Roger Lee Dance's 1st Annual Black History Celebration Concert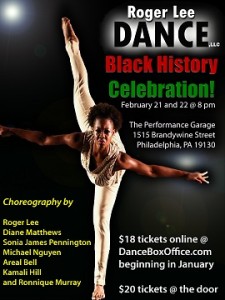 Series for the community. Each show features my choreography and the work of 7 guest choreographers. I think that the community will enjoy seeing black history celebrated through the lens of live dance and music. I am also launching and promoting new dance merchandise including the Roger Lee Dance Cardio Workout Video for beginner students, my debut e-book "3 Steps to Overcoming Dance Fear," and full-color prints featuring live dance action shots. Lastly, I am booking clients for my dance services including private and group instruction, entertainment for kid parties and special events, public speaking about dance, health, and wellness, marketing and publicity, and entrepreneurship, and consulting for marketing and publicity, programs, and special events.
Buy Tickets here for Roger's 1st Annual Black History Celebration Concert on the 21st and 22nd.
You can reach out to Roger online via his self-designed website www.rogerleedance.com.
Tune in next Saturday for my next guest entrepreneur!
Did you enjoy reading this? Awesome! I'd like to invite you to sign up here to receive new blog posts in your inbox when they update.