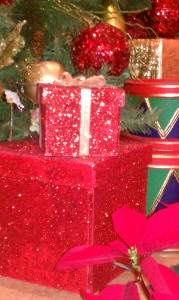 I love love love this holiday season! It's one of my favorite times of the year! Admittedly, I'm slightly paranoid about slipping on ice and breaking something, but I still truly enjoy celebrating Christmas. Now, I know all of my readers don't celebrate Christmas for whatever reason, (and that's fine), but I'm one of those people who will wear red and green socks and earrings shaped like candy canes. (Yeah, yeah) I also get super excited about reading or watching movies about The Nativity Story. When it comes to Christmas I am on serious big kid mode, and loving it! I thought I would share a few of my holiday traditions with you, and I would love to hear about some of yours too.
Christmas Lights
To this day I still love driving around and looking at all the pretty Christmas lights and decorations on people's houses. I make a poo face when someone throws up a bunch of blow ups and get a kick out of that one house on the whole street that just has a wreath on the door (you know who you are). Every year since I was a little girl I go to these two houses that really do it up big and I'm never disappointed. They got smart, and leave a donation bowl next to the basket of candy canes (they invite people to tour their winter wonderland). I haven't gone yet, but I'm praying the tough economy hasn't hit them at home.
Charitable Giving
When I was younger I used to go Christmas caroling in nursing homes for the elderly and I praised dance for children suffering from mental illness who had to live away from their parents. Now, I fundraise for less fortunate children, and do my best to bring more awareness about nonprofits. The point is, if you don't have the money, it doesn't take much to make others smile by giving a little of your time.
Quality Time with Family
I love gathering together with my family and breaking bread together. My mom used to make a big breakfast and cook a big dinner. I think I would like to carry that tradition on, but maybe with a smaller breakfast. I usally bake cookies for everyone to enjoy, turns out I actually like to bake (go figure). I also love watching the little ones rip open gifts and babies being more excited about the wrapping paper than what's inside. Before the Wii we used to play board games together (you do still remember Sorry and Trouble right?)  I love that we're all big movie buffs and can all sit down and laugh at movies like National Lampoons Christmas and Elf, or get up and try to do the goofy looking dance from Charlie Brown's Christmas. And of course I love Christmas plays like the Nutcracker and musicals especially starring Julie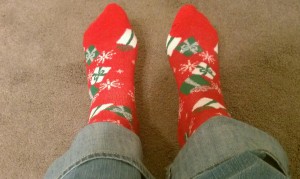 Andrews.
But enough about me, I would love to hear from you, what are some of your favorite holiday traditions?