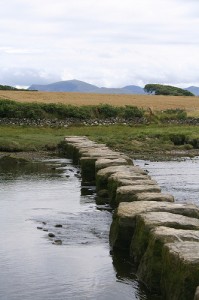 Today is the 7th day of the New Year. One of the first things I wondered was how everyone else was doing with their goal setting so far if all of the planning was completed,(mines sure isn't).  I've heard that 7 is the number of completion, and even though it's only been a week, I feel that I've already come full circle once again with life changes. Within a week I was hopeful, felt hopeless, and once again was forced, (by myself) to let go and let God. I've stated before worrying is a waste of life yet I was wasting away agonizing and beating myself up because I felt I wasn't going in the right direction already in 7 days!  I realized that I was still clinging to the good things from the past, and comparing my less than comfortable reality to those things. By doing that, I was not being grateful, probably a little selfish okay very selfish and certainly not moving forward in my big picture vision. I felt I was Nowhere and struggled to accept that I am Now here and must be content, not complacent but content.
As I was reading various tweets and scrolling through my facebook newsfeed, I saw mixed emotions from people. Some were declaring this year to be their year. Some were already on the "fml" kick. This year, whether I achieve tremendous accomplishments or I celebrate small victories, I don't want to be business as usual.
I was presented question: What is the ONE THING that you know in your gut you want to do this year?
After room sharing, on a serious minimalist living stunt all of last year, I want to find a place to call home. Because I refused to accept everything that was Lynn's life last year, I never felt home; I felt like an outsider and my mind kept playing the song from the Lion King 2 "Not one of us" whenever I was around the people I lived with. I'm not exactly sure what home will look like for me, but I know it means working smarter and giving my best effort in other areas of my life. I also have accepted that it may not be the cozy little house in the burbs I once had or a deluxe apartment in the sky, but I will make it home, and I won't stop believing and working for better.
What about you? What is the ONE THING that you know in your gut you want to do this year?