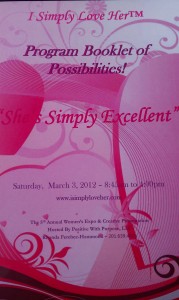 I just wanted to do a quick post about my experience at the 5th Annual I Simply Love Her Women's Expo. The event was hosted in a ballroom setting, so the decorations were just the icing on the cake to a beautiful vending spot. The program booklet was well put together and the ladies were all generally nice. I really felt that this was a very Christian inspired event. I'm not sure if the attendees were all Christians but no one seemed bothered by the references to God or mention of the name Jesus.
The day started with a Krispy Kreme breakfast and there was a "party in my tummy so yummy so yummy" (I hang around too many small children) and all of the vendors were already working the hustle. I ran into several Facebook Friends I had yet to officially meet and latched onto the lovely Karen pretty much the entire time (I usually need a wingman so thanks Karen!) Karen is an awesome Independent Consultant for her company All Above Health Solutions that I had "met" in a Facebook group. As I made my way through the expo; I attended 2 of the workshops and heard great inspirational speakers. The afternoon brought a delicious meal catered by Aunt Berta's Kitchen and a panel of women who shared their struggles and triumphs explaining why they loved themselves thereby bringing encouragement to the attendees.
Now, my biggest and only disappointment with the program was that there was no Denise Mathews aka Vanity. Somehow, I totally missed the announcement that she wouldn't be there or any reference as to why she wouldn't be there if she gave one. Apparently, her absence was noted on the website and the vendors were all informed. The key note speaker not showing initially disappointed me, as I was looking forward to hearing her story up close and personal, but it didn't stop me from enjoying my day. Truthfully, by the time I ate lunch I had already forgotten to inquire about who the speaker would be and enjoyed the networking opportunities, the live entertainment and finally the "ram in the bush" speaker Debra Groller.
All in all, the environment was very positive and uplifting. Many of the women laughed and cried together, and I believe just about everyone went home feeling stronger, motivated, and encouraged. Mission Accomplished.