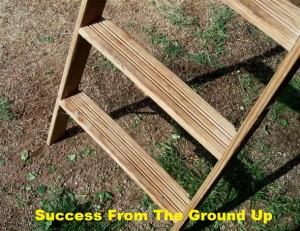 2012 what can I say about 2012? Well, it was an interesting year to say the least. As a matter of fact I shared with my Facebook friends that there was never a dull moment.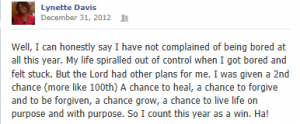 The senior pastor at my church declared 2012 the year of maximizing sovereign opportunity.  I felt like I did just that however, I didn't realize until later that for me, sovereign opportunity didn't necessarily mean something as concrete as I thought it would manifest itself to be. In my case, it was more about positioning. Positioning myself to make power moves I wasn't quite ready for. Saying yes to things I didn't feel suited my introverted personality, (like doing my first speaking engagement). Saying no and walking away from things that deep down, I knew would milk me until my passion dried up.  But you see, the thing about positioning is that it's hard to see progression when there's no clear encounter or destination. It took me awhile before I realized just because you can't see the progress doesn't mean it's not being made.  In the end, 2012 was the year of acceptance for me. Accepting the things I couldn't change, accepting the fact that I needed help, accepting that as much as I have seen in my short 20something years of life (and I have seen some stuff), I still had a lot of growing up to do.
On Goal Setting …
Well, it takes me awhile to set goals because I tend to want to accomplish a whole lot in a little bit of time whenI don't have half of the resources I need at my disposal. (Yeah, I'm a Dreamer) Anyhoo to combat that I do a brain dump exercise and write out all of my dreams, hope, desires, and ambitions for the year because *shrugs* ya never know.  Next I draw a chart of 6 categories/slices of life (a term I adopted from my joy plan)
Personal: which covers self-esteem, learning, dreams, adventure, travel, etc.
Social: which cover Family, Friends, Romance, Significant other, children, etc.
Spiritual: which covers Relationship with Higher Power, Life Purpose, practice/prayer, etc.
Physical: which covers health, style, sexuality, surroundings, etc.
Professional: which covers passion, recognition, career objectives, contribution, etc. 
Financial: which covers Debt, security, planning for the future, wealth, etc. I try to plug at least 1 goal from the brain dump exercise into each slice of life to get myself closer to my destiny.
As for how I did on my goals… well I'll share 1 from each category so I don't bore you too long
Personal: I wanted to finally get on a plane and travel and even though I seriously didn't think it would happen it did and I vlogged all about it on my youtube channel.
Social: Be a better sister to my little sister. This was hard for me because my sister has always thought of me as a weirdo (btw this conclusion is not exclusive to her, but I'm not, I'm just…awkward, sometimes, and maybe a little bit of a geek) nevertheless, I tried to listen to her with an open mind when she wanted to talk to me letting her know I was there if there was a need, include her in my projects so we could bond, and made sure to randomly tell her I love her. Hey, it's a step!
Spiritual: I felt I was slacking in spending personal time in the Word so I decided to commit to a devotional 6-7 days a week. I ended up doing one 5-6 days a week Joyce Meyer Battlefield Of The Mind devotional being my favorite. 
Physical: Because I've been putting all my mula into paying bills and my business I haven't treated myself to much of anything and so this year I wanted to splurge on something "superficial" that would make me feel more beautiful. So, I bought some Bareminerals foundation and some Sephora lipgloss to doll up every now and then.  As a bonus I won some shea butter and black soap from the awesome team at Beautifro Natural products  and love it! I was also surprised with a day at the spa for Christmas!
Professional: I wanted to finally become a published writer to an offline business magazine and Deanna the publisher over at Stay Focused Magazine gave me that opportunity! 
Financial: I wanted to pay off more debt but as soon as one bill got paid "mysterious" bills came forth and I was right back to where I started.  So, here's hope for 2013!
There you have it! Thanks so much for reading my journey and I hope you'll stick around for next blog post!
Until Next Time…