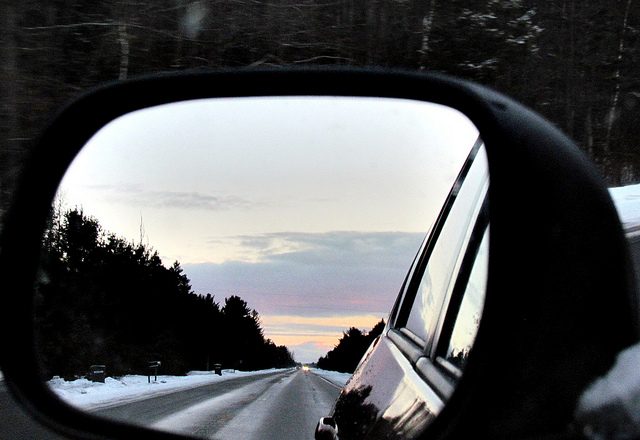 I saw a couple of #ThrowbackThursday photos floating around this past week and decided to dig out my own old photo album books that I finally (finally) got out of storage. Looking at those old photos took me on a trip back down memory lane…*cues the song
As I checked out the photos I expected a flood of emotions to hit me, I should've been sad at precious friendships lost and gone astray, or perhaps I should've burst into laughter or maybe I should've reminisced on the "good ole days" like my family tends to do around the holidays. I didn't really feel a flood come through…instead I wondered why it took me so long to realize that the girl in those pictures was only a sliver of the essence I'd eventually accept as being the true me. You see, I was always running, trying to get to the next moment, trying to taste the fruit of "success" planted in my mind from God knows where, running so hard from myself that reflecting back while looking at those old photos I briefly wondered if I was ever fully present in the reality of my experiences.
Then, after laughing at a photo where I was wearing a long chain with a dragon pendant around my neck which symbolized the days when I was a huge Dru Hill fan…I decided it didn't matter. Whether I was fully present to life then or not, I still managed to bring some great memories along for the ride. Those memories were just enough to trigger a desire for change, because if I thought they were too faded then I could create the kind that felt more colorful. Now, I'm taking in the ups and the downs of the journey, walking towards my destination, stopping on the road to laugh and have exchanges with other travelers and this time keeping records and drawing maps perhaps I'll learn more interesting lessons, maybe even teach a few things to others so they don't hit the same dead ends I did! Life is far too short to have regrets, especially about matters you can't go back and fix if indeed it ever needed a fixing. And life is also far too precious to continue doing the same ole same ole that will cause you to feel regret.
Now, when I take pictures, or journal, or create vision boards and then later decide to go back down memory lane, I think I'll smile. I'll be reminded of hope and determination, of having fun and being authentic, of loving life and being in the moment; I'll know that somewhere along my journey purpose whispered in my ears.  It called me to live with it, to walk in it, to speak with it, to discover where it would lead, and even to encourage others to believe they have one too and that theirs is just as important as mines… and looking back, I'll smile because I'd know that I decided to listen.
Do you ever pull out old photos and take that trip down memory lane? What kind of emotions do you experience when reflecting on the past?
Until next time…
Did you enjoy reading this? Awesome! I'd like to invite you to sign up here to receive new blog posts in your inbox when they update.