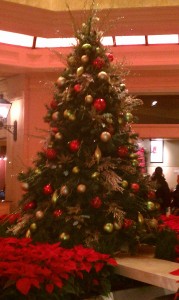 Well, it's that time of the year again! It's the season of giving thanks, celebrations, counting your blessings, spending time with loved ones, and for me… taking a blogcation.  You could say it's my tradition. Thankfully, I have awesome, understanding blog readers who come back over when I return in January,(and I hope you will this year too) but you could always get morning greetings from me via Facebook or Twitter until then 😉
So, when I return in the new year, I'll be reporting in on my quarterly review, talking about goal setting, perhaps my own rendition of a happiness project (inspired by the happiness project book), making some announcements, and introducing you to some amazing entrepreneurs for my 4th annual Black History Now series 
In the meantime, if you're new to the blog, feel free to check out the blog categories section in the right sidebar and choose a topic of your fancy…here are a few of my favorites from this year:
Fear of Success and What's The Worst that Could Happen
Why Ask For Permission? [Vlog]
Abundance or Scarcity Mindset, Which do you have? [Vlog] 
Wishing You A Merry Christmas And A Happy New Year!