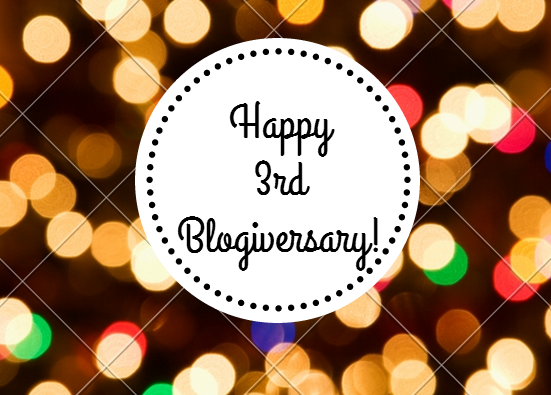 Guess what?!? It's my Blogiversary!!!!
The 9th of this month made 3 years that I've been typing my heart away in this digital realm.  Yes, 3 years! I seriously didn't think I'd still be here. But the domain and hosting have been paid for the year, so here I stay!
There are so many tweeks I'll be making to the blog this year, I'm super excited about finally implementing some of the changes I've had in mind for quite awhile.
Last year, I didn't get to interact with too many other bloggers and I really missed reading about what was going on in the blogsphere with some of my favorites.
As, I continue to improve in the work/life integration department, I plan to make this year my best blogging year yet!
So, to celebrate, what I wanted to share with you was some of my favorite resources, tools, and personal reflections on blogging.
My top 3 favorite bloggers who blog about…blogging
1)      Kikolani has been bookmarked for quite some time. I've lost count of how many places I've seen the work of Kristy Hines as she blogs for many of the top ranking marketing blogs around. Once upon a time when I wanted to just be a professional blogger I stalked this website, (now I just have a humble respect for bloggers like Kristy).
2)      Become a Blogger with Leslie Samuel I can't remember how I stumbled upon this blog, but what I really liked about it was that Leslie seemed very authentic in his approach to help other bloggers do more with their blog. He would literally blog about the process of growing a blog as he experimented with different techniques. (Perhaps this year I'll actually try the advice out.)
3)      Finally, the infamous CopyBlogger blog . Honestly, this site has grown so much since I first learned about it, I'm still trying to keep up with all their awesomesauce. But, in particular, I want to point out that I love pretty much anything Sonia Simone writes, she really is an amazing copyblogger.
 My top 3 favorite blogging tools:
1)      Sometimes, a blog post just hits me, (though most times it takes me forever to get a blog post down) but when it hits me, I like to be ready, so I tend to use Evernote. I can jot down ideas and it will sync with my computer where I can later retrieve it and save the idea for a rainy day. What I also like about it is that I can also record my thoughts say if I were driving  and save my voice recording as a note to again spark some inspiration for a rainy day.
2)      Next up is Dropbox  (and yes if you use that link I get some more free space) I need some place to hold all these images and video blog recordings. Also, when I can finally afford an editor, (one day, one day I tell ya!) it will be easy for me to share all my randomness without having to send 50 billion emails. Also, you can use dropbox to save the files and database of your precious wordpress blog if it ever crashed and such…
3)      Google- what can I say, Google and my droid work very well together. I love using Google calendar as an editorial calendar,  a social media post planner, and a "Lynette you have to blog right now" alert system.
Finally 3 lessons I've learned in my 3 years of blogging…
1)      Don't let the other Bloggers, (especially the ones with big followings) deter you from blogging. Everyone has their 2 cents about what you should be doing or why you shouldn't do this or that. I've even read some bloggers write things like if you won't do it this way then don't even bother, like seriously?!?
If you want to blog then blog gosh darnit!
Same goes for the grammar police and anyone else who has a problem with your creative outlet in the blogsphere. Their trolling is not your problem! Kindly escort them to the virtual door and inform them they are free to choose another spot on the web that will make them feel better about themselves.  (I tell ya, people get mighty bold behind a computer screen).
2)      Decide from the door if you want a hobby blog or professional blog and act accordingly. Reflections was always intended to be more of a hobby blog, than a professional blog so I could unapologetically do things my way with it, (like refusing to throw ads all over the place).  Although, it likely contributes to my professional brand and I do plan to monetize it some more, (to cover the costs of keeping it on the web, and give back to my favorite causes) I never had the intention of this being anything more than a place to share my journey with whoever was willing to read.
3)      Even if it's a hobby blog, you can still change the world. I suppose for myself, I'm a slow and steady wins the race kind of gal. So, I've been growing my blog readership via relationships I built over time and the connections I make one-to-one for the most part, (though SEO helps). But because I feel that I've always tried to keep it real here, I have an amazing community of people who also have an amazing community of people and together we can make a difference. Through blogging, I've learned about career paths I had never heard of, I've discovered entrepreneurs who are brown like me, when I honestly used to wonder if we ever "made it" without having to become a basketball player or talk-show hostess, seriously, it's nice to meet others who share similar backgrounds and experiences, and give me something to aspire to… I've also been able to share about amazing change agents and get them some exposure and hopefully some funds, and create a passion-based business helping women I truly admire. Blogging can really open many doors!
So, cheers to another year of amazing discoveries, powerful lessons, wearing my heart on my sleeve moments, and sharing as much of the useful stuff with you that I can!
Until next time…
Did you enjoy reading this? Awesome! I'd like to invite you to sign up here to receive new blog posts in your inbox when they update.