The 2016 Be The Change Interview Series
Week 3 – Featuring: Stephanie Lampkin, Entrepreneur, Tech Innovator and Engineer
If the video didn't show up here's the direct link: https://youtu.be/XkqL2KQ8Fn0
About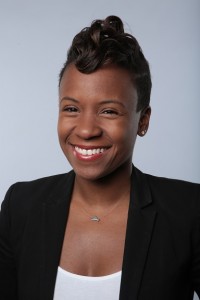 Stephanie Lampkin is the founder & CEO of Blendoor, merit-based matching, a mobile job matching app that uses a blind recruiting strategy to circumvent unconscious bias and thus facilitate diversity. With a 13 year career in tech spanning companies like Lockheed, Deloitte, Microsoft, and TripAdvisor, she is all too familiar with the difficulties faced when one doesn't look like the prototypical engineer. Through technology and data, her mission is to reduce bias and challenge the assumption that homogeneous environments are a meritocracy. Stephanie holds a BS in Management Science & Engineering from Stanford University and an MBA from MIT Sloan.
Stephanie has been honored and featured in numerous publications including Forbes, NPR, NY Times, Tech Crunch, Huffington Post, Tech.Co and Black Enterprise. She has spoken publicly on a myriad of topics from the future of work to hacking unconscious bias at MIT Media Lab, Dreamforce, SXSW, and more. Most recently Stephanie graduated from Stanford StartX (a top 5 startup accelerator); the first Black woman founder/CEO accelerant in the program's 5 year history. In response to the discovery that there are only 13 Black female startup founders in the world that have raised $1M or more in venture capital, Stephanie organized an elite cohort of Black female founders with high-growth ventures. Stephanie's mission is to effectively demonstrate that investing in diversity yields positive returns socially, financially, and technologically.
How You Can Help
Help break down unconscious bias one swype at a time… Become a Beta user at http://www.blendoor.com/
You can also connect with Stephanie via social media
LinkedIn: https://www.linkedin.com/in/stephanienlampkin
Twitter: https://twitter.com/blendoor
Resources Mentioned
Slack team communications
Women Who Tech
Bonus Resource: What is STEM?
Until Next Time…Peace!
Did you enjoy reading this? Awesome! I'd like to invite you to sign up here to receive new blog posts in your inbox when they update…
Oh! By the way, if you want to learn more about the blogger of this post feel free to check out my about page.