Here's the direct link to the recording on YouTube: https://youtu.be/glWj_85pD-o
Around 6:40: Mineela shares why she decided to pursue studies in Divinity and Therapy
She shares a bit about Sigmund Freud's views on spirituality being a delusion.  (If you want to read more about Freud on religion you could start with Obsessive Actions and Religious Practices (1907) )
Around 12:44: Mineela talks about the differences between faith, religion, and spirituality.
Around 16:13: We give a shout out to George Michael!
Around 20:19: We talk about the opposite viewpoints on religion either being a very positive and healing experiences with spiritual communities or a painful and traumatic experience.  I talk about Karl Marx and his views on organized religion being "the opium of the masses" (it is a paraphrase) and we talk about the hero's journey to see that view differently. She mentions Donald Miller as a reference and talks about the idea of organized religious communities representing the needed guide on that hero's journey. I later mention Joseph Campbell who did extensive work on the hero's journey, I specifically reference his book, The Hero with a Thousand Faces.
Around 33:00 We start into a deep discussion about disconnection between faith communities and the current affairs, trauma, purpose, and identity reclamation. The article that mentions the scientific backing of spiritual practices such as drumming for mental health and its being recycled and sold back as if it were a new idea.
Around 41:57 Mineela ties trauma to religious text references, as she breaks down intergenerational trauma.  She references the research on Adverse Childhood Experiences (ACEs) (you can find TED Talks on this research) and we talk about epigenetics and how they make you more vulnerable to things like addictions.  And then we discuss how to end this legacy of trauma.
Around 46:53 we talk about the impact of spirituality on identity and identity on mental health. So we begin with thinking about how spirituality inform who we are. Mineela mentioned a study on mental health and religion . (I found an article that talked about that study https://www.psychologytoday.com/us/blog/unique-everybody-else/201301/troubled-souls-spirituality-mental-health-hazard )
Around 57:00 we close out and Mineela shares how you can get in touch with her and learn more about her counseling and consulting practice. Her website is: http://mineelachandmft.com Her Facebook page is: https://www.facebook.com/MineelaChandLMFT/
About Mineela: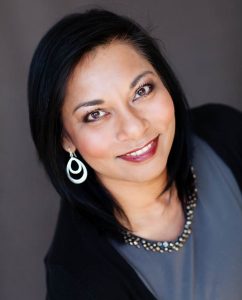 As a Marriage & Family Therapist, Mineela Chand embodies empathy as she utilizes sophisticated, goal-oriented techniques that produce relief and results.
Possessing a manner that is both compassionate and charismatic, Mineela forms deep and emotional connections with clients as they explore the struggles in their lives. Whether sitting on the floor coloring with children or crying at clients' stories of pain, she accesses a unique, authentic quality of caring that allows her and her clients to comfortably and effectively resolve the hold-ups and traumas keeping them from their full potential.
With over sixteen years of experience as a Marriage & Family Therapist, including four years working with children, and several more years of schooling and training, Mineela has developed a comprehensive practice that effectively aids individuals, couples and families suffering from depression, anxiety, trauma, and ADHD.
Mineela loves her work. She takes pleasure watching people progress, happily saying "goodbye" to clients as they achieve their goals.
Related Posts
How Mental Health, Religion, and Spirituality Are Interconnected (My Story)
Until Next Time…Peace, Love, and Wellness!
Oh! By the way, if you want to learn more about the blogger of this post feel free to check out my about page.
Grab a FREE copy of my Manifesto "Because Love Is" no email sign up required