Here's the direct link to the recording on YouTube: https://youtu.be/qwo22rM0kG8
Around 2:12 Dr. Ruby begins talking about the connection between mind, body, and spirit.
Around 4:07 We start talking about the spiritual properties of good. And the 2nd brain "gut". Lynette references Sisters of the Yam by bell hooks.
Around 6:00 Dr. Ruby talks about the energy and vibrations of food. Dr. Ruby talks more about the gut as a 2nd brain and how about 70% of disease starts in the gut.
Around 7:45 Dr. Ruby begins our dialogue about the spiritual aspect of food being where the food comes from, and how it is treated up until the point of which we consume it.
Around 7:56 Dr. Ruby begins to explain why she has chosen a plant-based diet.
Around 9:48 After comparing the differences in how we feel after eating certain foods, Dr. Ruby explains how taking in food with low vibrations affects you spiritually just as much physically and mentally.
Around 10:15 Dr. Ruby talks about the often forgotten meaning behind phrases such as "I put love into the food".
Around 12:30 We talk about how spirituality shows up in daily life, including a business aspect even though we want to keep it boxed in and separate.
Around 14:35 Dr. Ruby begins talks about the gut and depression, and other connections to nutrition and mental health issues.
Around 18:40 Dr. Ruby talks more about how food affects our mood, mental acuity, how fast or slow we think.
Around 19:48 Dr. Ruby says "The healthier the food, the healthier the brain." And talks about how we can improve mood with food.
Around 23:11 After bringing up the 90's movie Soul Food we talk about the spiritual and mental healing practice of cooking food with love, and nurturing relationships with coming together and eating together.
Around 25:52 Dr. Ruby talks about keeping these healing traditions of family gatherings but also making it all around healthy by adjusting the menu items.
Around 30:25 Dr. Ruby talks about food as a form of resistance because we have control over what we're putting in it.
Around 31:47 Dr. Ruby shares how you can reach out and connect with her online. She mentions her Going Vegan online program for those interested in changing their lifestyle.
About Dr. Ruby: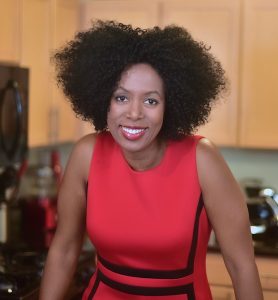 Dr. Ruby Lathon is a certified holistic nutritionist and inspires with a powerful story of recovering from thyroid cancer through alternative treatment focused on a whole food, plant-based diet. Dr. Lathon worked as a researcher and an award-winning engineer, and now teaches others how to re-engineer their health and live disease free.
Dr. Lathon, a graduate of the University of Alabama, served as Nutrition Policy Manager at the Physicians Committee for Responsible Medicine, where she developed and led a national grassroots campaign to advocate legislation for more healthful, plant-based meal options in the National School Lunch Program.
Dr. Lathon is host of The Veggie Chest with Dr. Ruby, an online, plant- based cooking show and is featured in the hit documentary, What the Health and will be featured in two upcoming documentaries. Dr. Lathon is an inspirational and sought-after speaker on motivation, natural health, healing, and plant-based nutrition. Through her organization, Roadmap to Holistic Health, Dr. Lathon hosts holistic health conferences, workshops and healthy cooking classes and provides customized nutritional consultations and coaching programs.
Learn more about Dr. Lathon at: www.RubyLathon.com
Contact her: Info@RubyLathon.com
Like her at: www.Facebook.com/TheRubyLathon
Instagram: http://instagram.com/rubylathon
Related Posts
On Mental Health and Spirituality Featuring: Tai Goodwin
On Mental Health and Spirituality Featuring: Mineela J. Chand, M. Div., LMFT
How Mental Health, Religion, and Spirituality Are Interconnected (My Story)
Until Next Time…Peace, Love, and Wellness!
Oh! By the way, if you want to learn more about the blogger of this post feel free to check out my about page.
Grab a FREE copy of my Manifesto "Because Love Is" no email sign up required